Description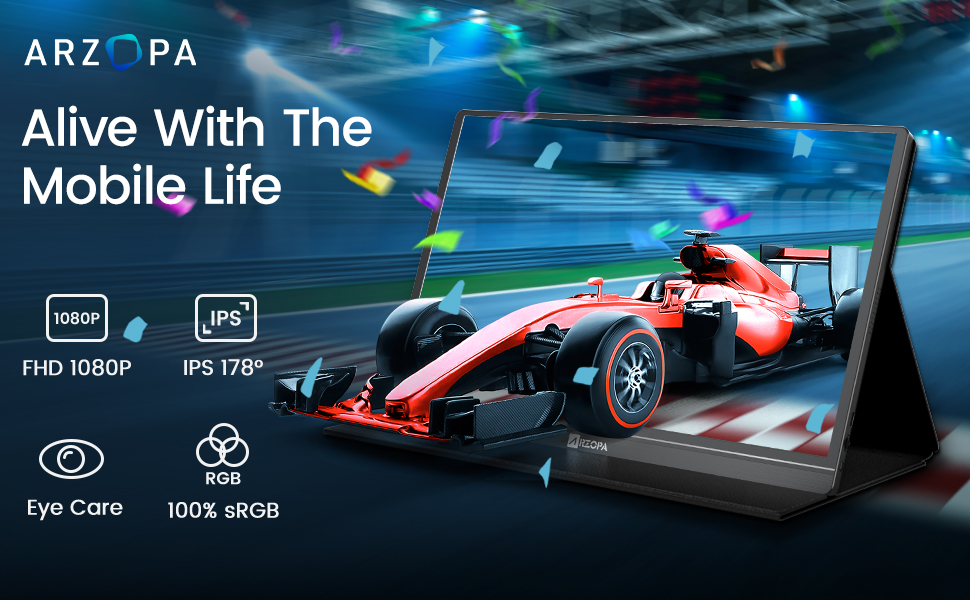 ARZOPA 15.6'' FHD Portable Monitor for Laptop
1920*1080 FHD HDR 15.6" Portable Monitor:

 

1920*1080 FHD resolution, HDR Technology, 1.7lb, 0.3 inches thickness. Provide you with a comfortable display of home computer, upgrade your travel experience.
16.7M color & 100%sRGB Gamut:

 

100% sRGB color coverage, 300 cd/m² brightness, 1000:1 Contrast ratio, 16:9 aspect ratio. Presents vibrant colors on the screen during game playing, reading or working etc.

Fast Response:

 

Use the latest technology ensures a seamless gaming experience by reducing screen artifacts and tearing.

Built-in 2 Speakers:

 

Built-in 2 speakers deliver an incredible sound and more immersive entertainment especially when listen to music /watch movies /play games.
Smart Case:

 

The magnetic function smart case is made of PU leather, which provide excellent protection for the entire monitor, also can be folded into different positions to create a stand.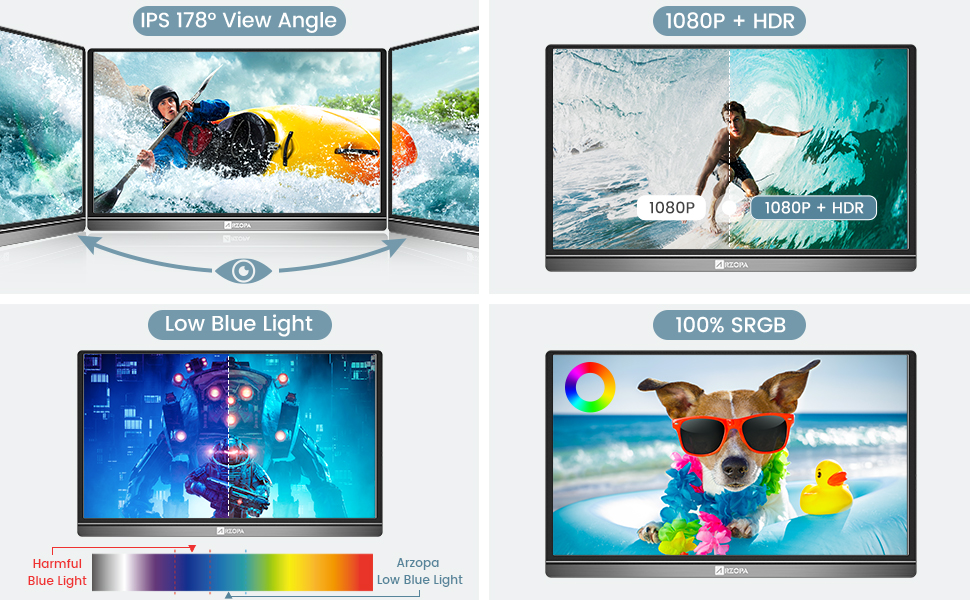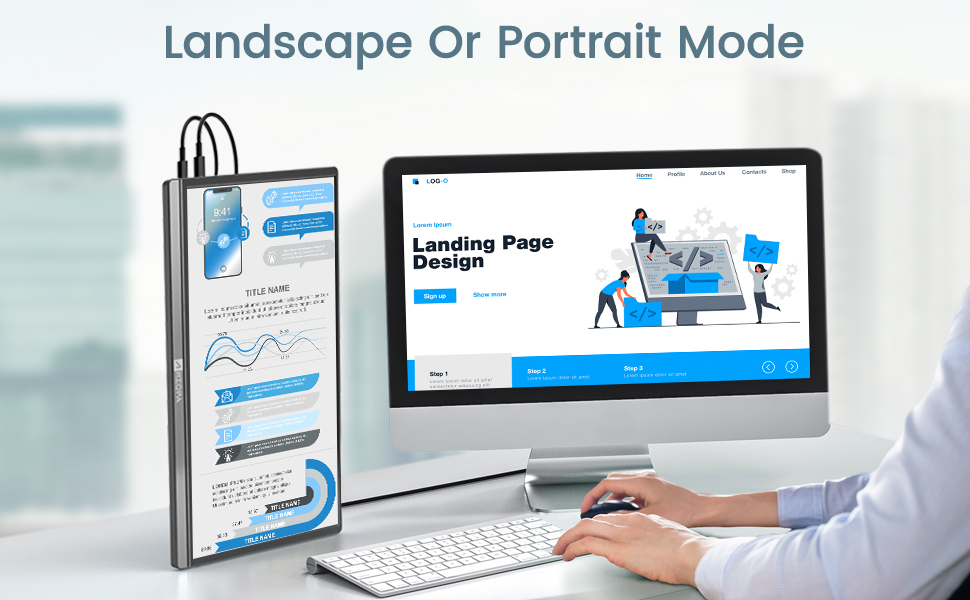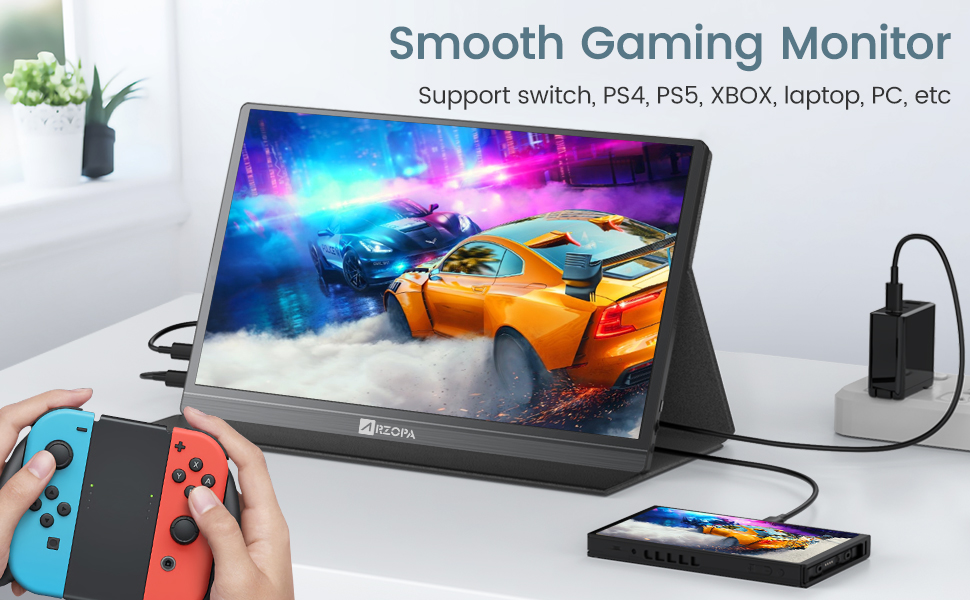 Warm Tips:
When you connect with your smartphone, which must has full functioned type-c port, only need to use USB-C to USB-C cable to connect.

 

(iPhone needs lighting to HDMI adapter).

When you connect laptop with full functioned type-c port, only need to use USB-C to USB-C cable to connect.

 

(Left side usb-c port of monitor for data transfer and power supply, right side only for power supply).

When you connect laptop/pc with HDMI port, you need use Mini HDMI to HDMI cable connect monitor and your device for data transmission, use USB-A to USB-C cable connection for data Transmission. USB-A side connect adapter or power supply device, USB-C side connect your portable monitor.

When your laptop /pc, smartphone is 720P, the monitor images will show 720P resolution. You need to adjust your own device to 1080P resolution, the portable monitor will show 1080P vivid images.

Press "Windows + i" to enter into setting on pc/laptop, adjust display direction (landscape/portrait), resolutions. Press "Windows + P" to enter into display mode (duplicate, extend, second screen only) to choose.

The usb c portable monitor does not built-in battery, just plug and play.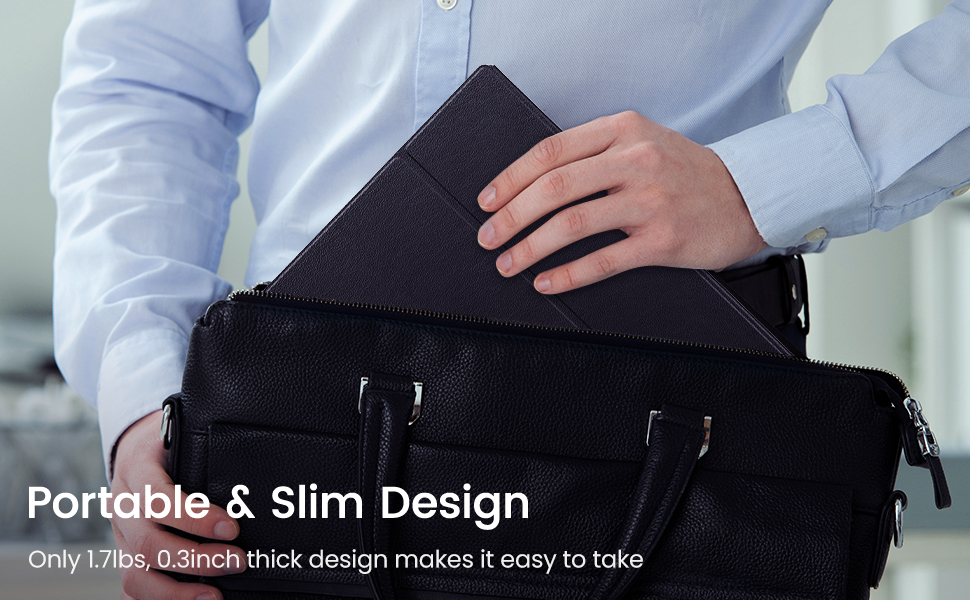 Compatible Laptop Models:
Apple:

 

MacBook 12 /2015 /2016 /2017 Pro MackBook Air 2018 / iPad Pro 2018-2020
HUAWEI:

 

MateBook D / MateBook E / MateBook X / MateBook X Pro / MateBook 13 /MagicBook

Microsoft:

 

SurfaceGo / Surface Book 2
ASUS:

 

ZenBook 3 / ZenBook 3 Pro / ZenBook X / U4100 / U4100UN / AU5100UQ

MI:

 

Mi Air 12.5 / Air 13.3 / Pro 15.6 / Pro 15.6 GTX
Lenovo:

 

Y7000 / Y7000P / Y900K / YOGA / ThinkPad X1 / Carbon / MIIX 720 /Youga

HP:

 

Elitebook 1050 G1 /Elitebook Folio G1 /ENVY13 / Spectre13

DELL:

 

G3 / G5 / G7 / Inspiron 5000 / Inspiron 7000 / XPS13 / XPS15 / Latitude 5285

Google:

 

Pixelbook

Razer:

 

Blade Stealth / Blade Pro

Nvidia:

 

Geforce RTX 2070 / Geforce RTX 2080 / Geforce RTX 2080Ti
More:

 

To be updated. Compatible with most PCs or Laptops.
Compatible Phone Models
Apple:

 

It supports connection with iPhone, but a Lighting to HDMI adapter is needed.

HUAWEI:

 

P20 / P20 RS / P20 Pro / P30 / P30 Pro / Mate 10 / 10 Pro / 20 / 20 X / 20 Pro / 30 / 30 Pro / RS /V20 /Note 10

Samsung:

 

S8 / S8+ / S9 / S9+ / S10 / S10+ / S20 / Note 8 / Note 9 / Note 10 / Note 10+

Razer:

 

Razer Phone / Razer Phone 2
OnePlus:

 

OnePlus 7 / OnePlus 7 Pro / OnePlus 7T
Sony:

 

Xperia 1 / Xperia 5 / Xperia XZ3. NOKIA: NOKIA 9 Pure / View. ASUS: ROG / ROG2. OPPO: R17 Pro. LG: G5 HTC: U Ultra
More:

 

To be updated. Compatible with Switch / XBOX / PS3 / PS4 / PS5 etc.
Payment & Security
Your payment information is processed securely. We do not store credit card details nor have access to your credit card information.