Description
Features:
● Fully Enclosed Dust Collection
With ad2.5 dust collection technology, it has completely closed dust collection and keeps your hands clean without emitting dust, which cares about your hand cleaning and respiratory health.
● General Arched Path Planning
The dual-core processor of powerful computing capacity can quickly take and process sensor information. Cooperate with advanced smart v5 standalone positioning and navigation integration algorithm, map in milliseconds. With a mapping speed of more than 20% greater than that of traditional products, and building maps in real-time, and planning a reasonable arc cleaning path to achieve efficient cleaning.
● Crossing Obstacles All-round LDS
LDS 2.0 high-precision radar laser sensor, accurate mapping navigation, omnidirectional Research of obstacles and steps, and timely adjustment of direction.
● Sweep at The Breakpoint Without Getting Lost
When the robot has any abnormality like the external force, it can continue to find the breakpoint position and continue sweeping to ensure cleanliness without hitting or skipping.
● 2700Pa Powerful Suction
To make the floor and carpet as clean as the new one. The unit body is equipped with a highly intelligent digital brushless motor at speeds up to 17,000 rpm/min, high performance, and strong power; four suction options are available, with air duct dust collection design, so that fine dust, debris, hair, and dust accumulated in the gaps in the floor are all collected in the dust box.

● 250ml Electric Control Water Tank

The water outlet can be adjusted at will. The smart electric control water tank initiates the alarm alert when there is no water, and provides three categories. With water outlet options, and is equipped with disposable mop cloth, to clean different stains.

● No Disturbance with Low Noise Operation
R1 adopts high-quality silent cotton for noise reduction of the whole machine, and the 100% polyester fiber is hot pressed by high technology. The noise absorption coefficient reaches 0.94 in the noise 125-4,000Hz range.

● Intelligent Multi-map Memory

R1 robot can memorize several maps at the same time, which means that mufti-floor maps can be saved in This application without re-mapping. This is very friendly for the house over one floor, so you don't have to worry that the robot will erase the xxi map on the first floor when it deans the second floor.
● On-demand Loading, Improve Cleaning Efficiency

In case of insufficient energy during cleaning, r1 will calculate the energy consumption needed to clean the remaining area and automatic reload, and then return to the breakpoint to continue cleaning after refueling.
Specification




Brand: Lydsto
Model: R1
Colour: Black
Functions: Sweeping, Vacuuming, Mopping
Voltage:110-240V
Power: 50W

Rated Power of Automatic Emptying Station: 1000W

Suction: 2700Pa

The suction of Automatic Emptying Station: 30000Pa

Rotating Speed: 50000rpm
Dust Tank Capacity: 200ml
Water Tank Capacity: 250ml

Station Tank Capacity: 3 L
Navigation Mode: LDS
Automatic Partition: Yes
Cleaned Area Indicator: Yes


Programming of Areas to Clean: Yes

Overcomes Obstacles: Yes (up to 20mm)


Wi-Fi: IEEE 802.11 b/g/n, 2.4GHz


Battery Information

Battery Type: Li-ion battery




Battery Capacity: 5200mAh

Dimension

Package Weight: 8kg 
Product Size: 25.50 x 21.80 x 34.30 cm


1 x Vacuum Cleaner, 1 x 

Dust Collection Charging Pile, 7 x 

Dust Bag, 30 x Disposable Mop Cloth, 1 x Mop Cloth, 1 x Mop Cloth Support, 1 x Getting Started, 1 x M

anual, 1 x EU Plug(We will send you an adapter which according to your country)

Version
Lydsto R1 Robot Vacuum Cleaner is EU Version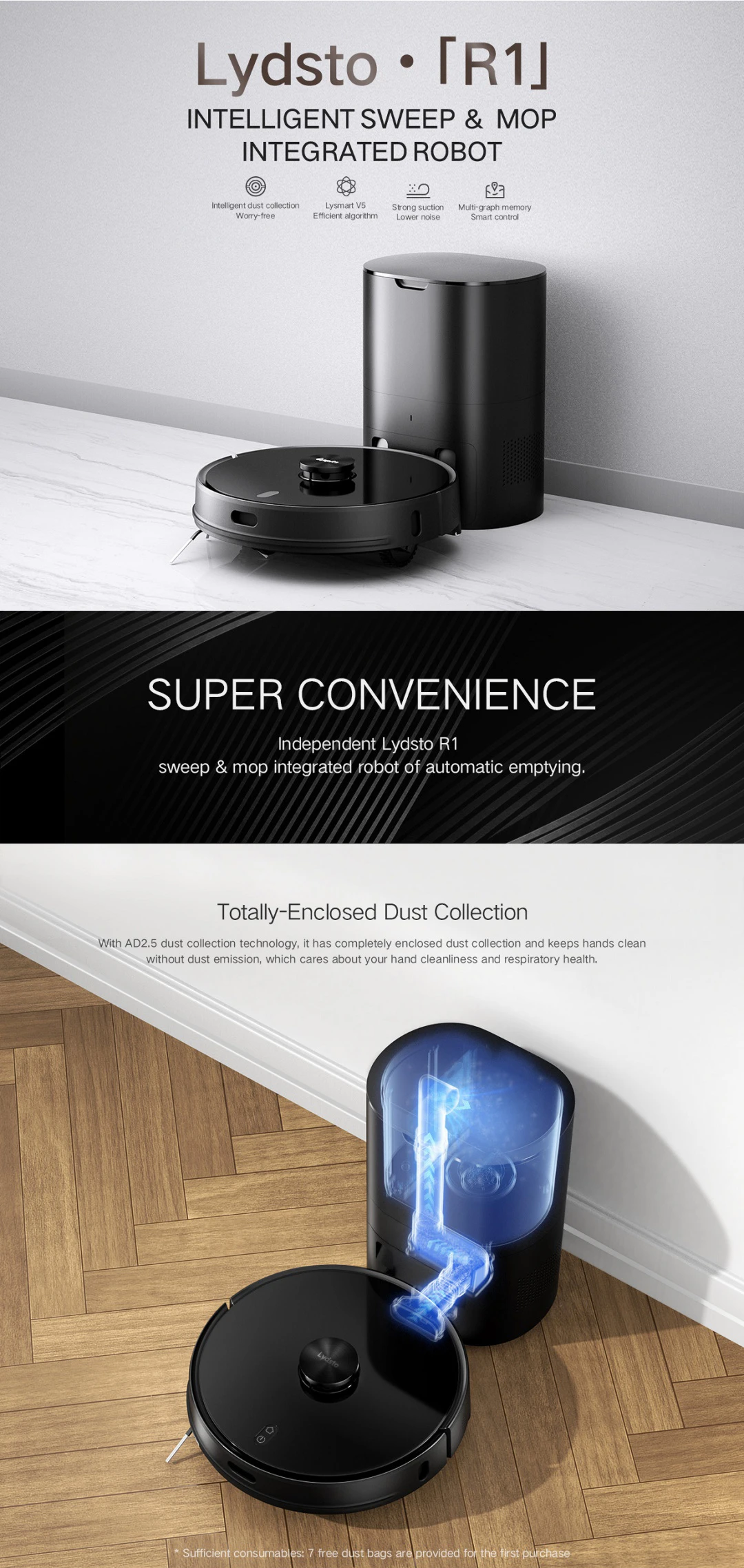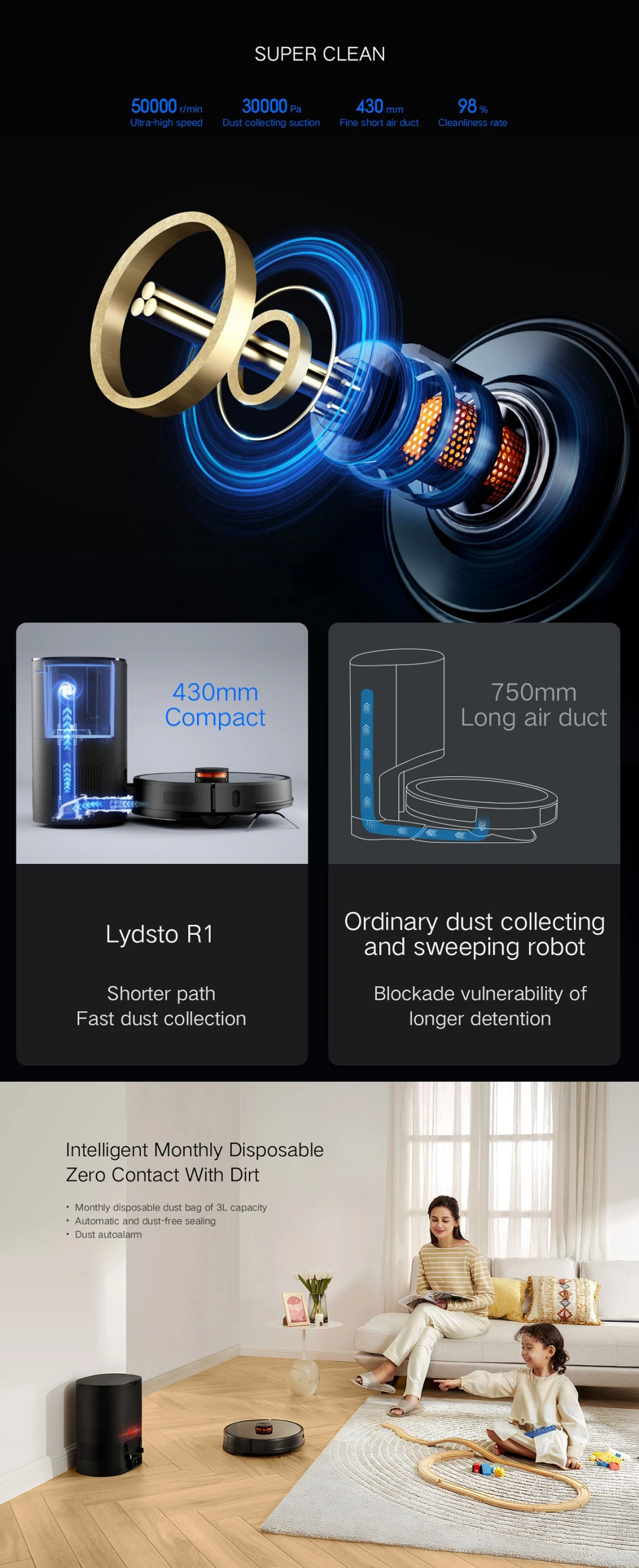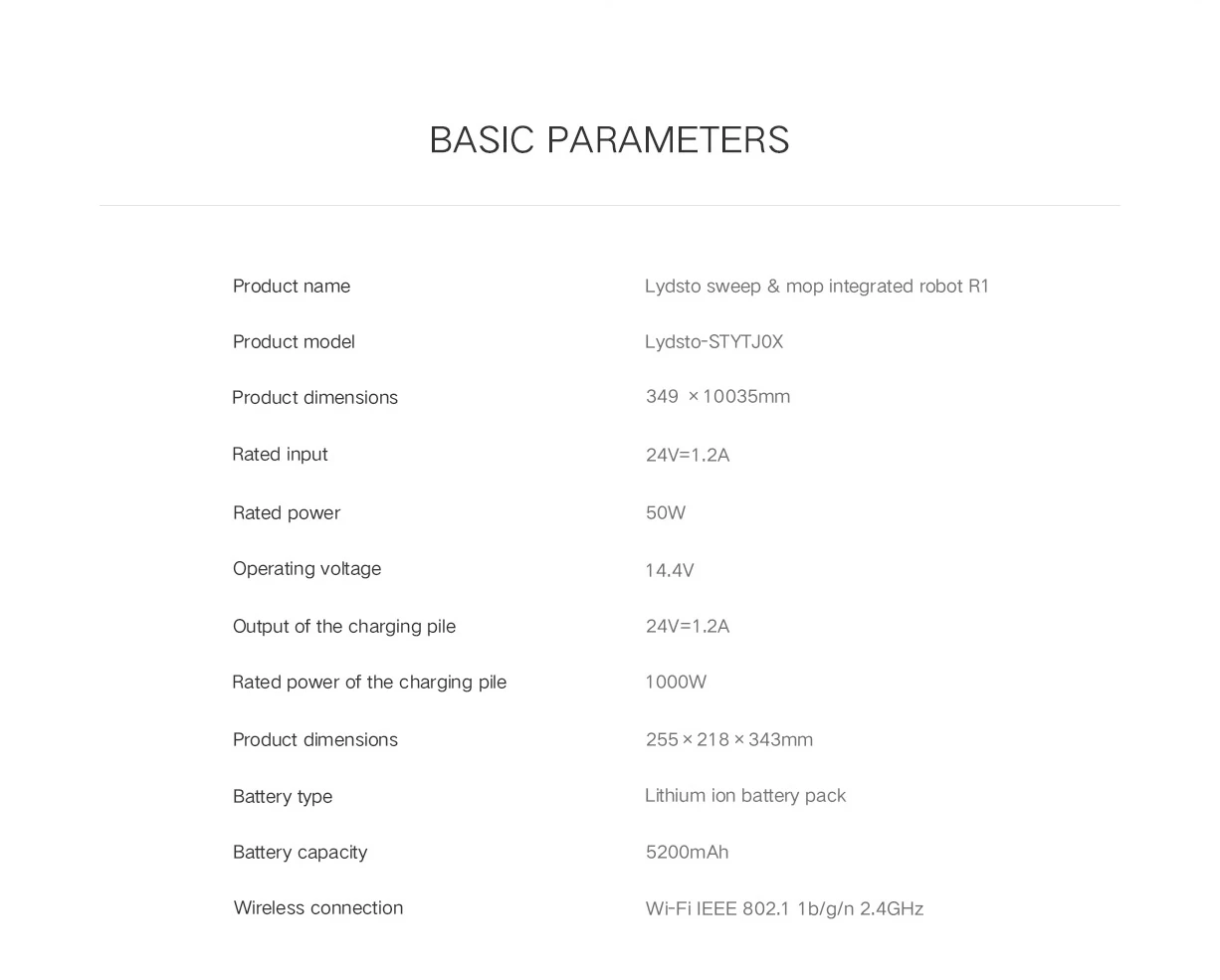 Payment & Security
Your payment information is processed securely. We do not store credit card details nor have access to your credit card information.