Description
IMILAB C21 2.5K Smart Camera
Main Features:
-360¡ã Field of View in 2.5K HD
-Human Detection & Two-way conversation
-F2.0 Aperture Lens
-Cloud & Local Storage
-Starlight night vision
-Local AI humanoid recognition is more accurate
-Intrusion timely recording
-H.265 encoding technology
-Abnormal sound detection, active alarm
-Multiple installation methods
-Imilab Home APP Control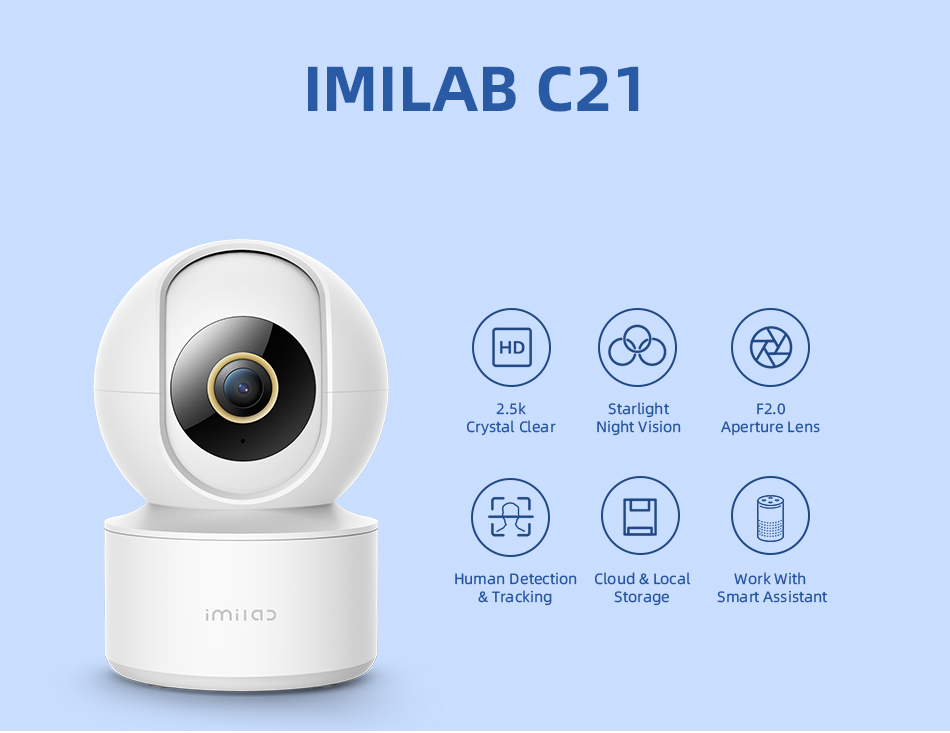 IMILAB C21 Smart Security Camera
2.5k Crystal Clear |?Starlight Night Vision?| F2.0 Aperture Lens
Huamn Detection &Tracking | Clound & Local Storage | Work With Smart Assistant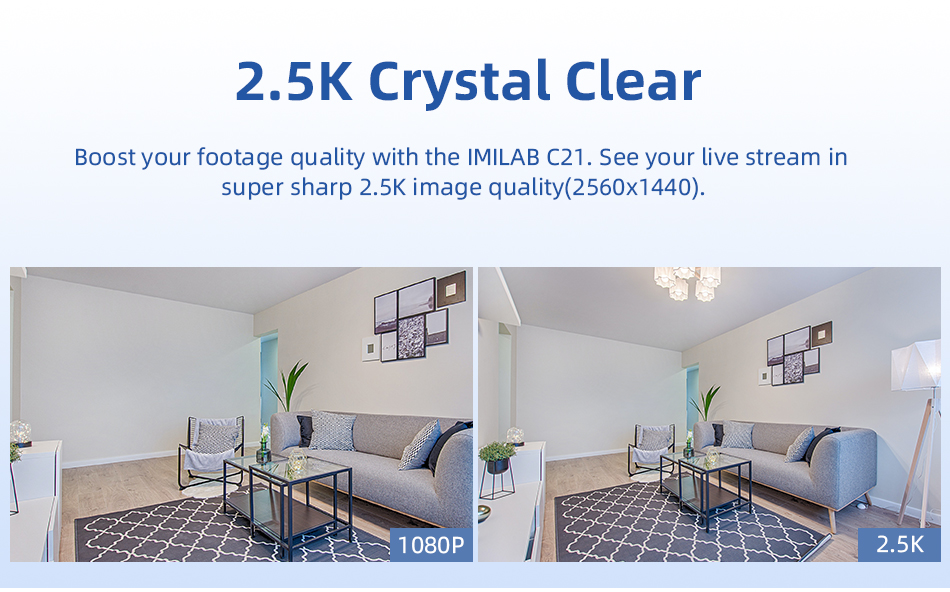 2.5K Crystal Clear
Boost your footage quality with the IMILAB C21.See your live stream
in super sharp 2.5K image quality(2560¡Á1440).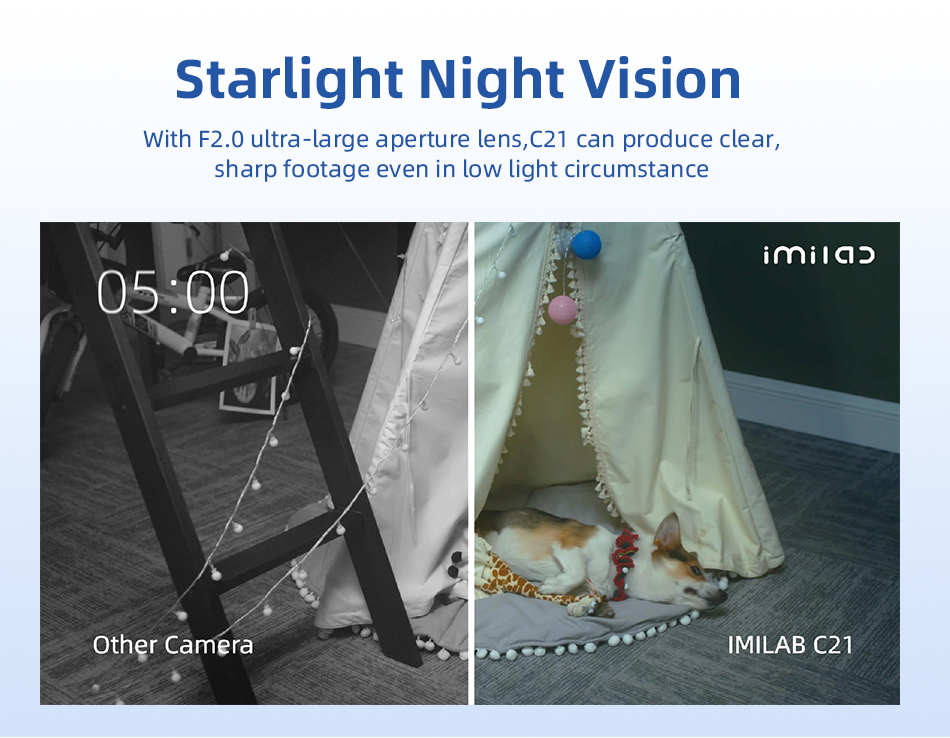 Starlight Night Vision
Witj F2.0 ultra-large aperture lens, C21 can produce clear,
sharp footage even in low light circumstance.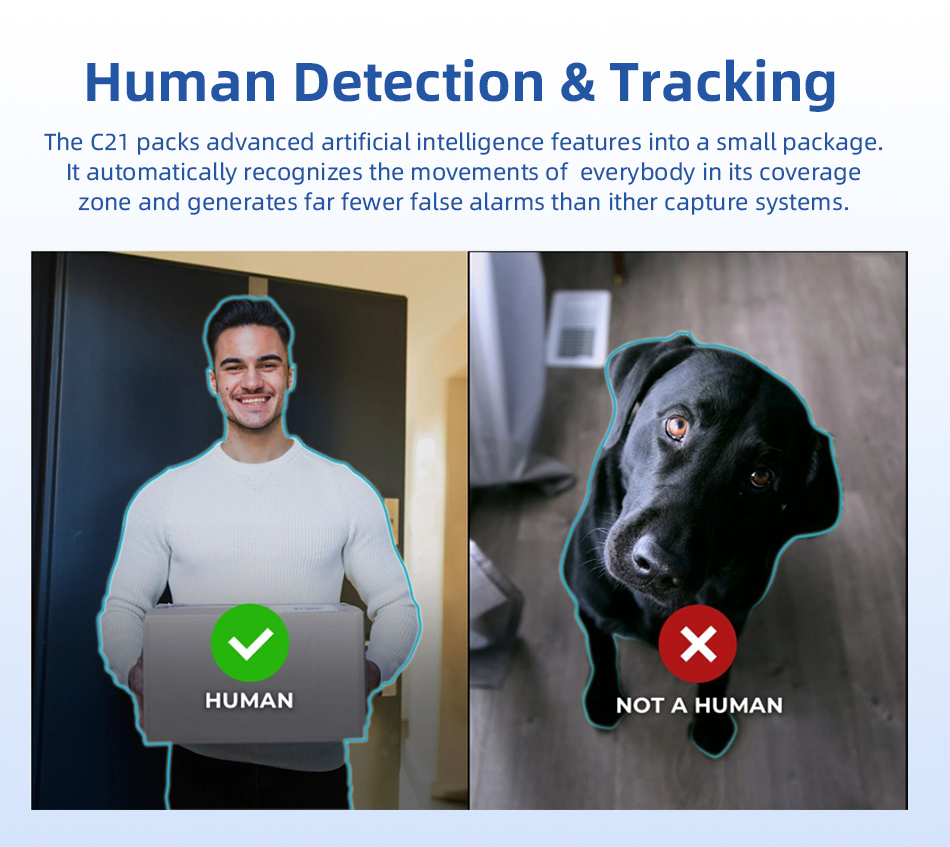 Huaman Detection & Tracking
The C21 packs advanced artificial intelligence features into a small package.
lt automatically recognizes the movements of everybody in its coverage
zone and generates far fewer false alarms than ither capture systems.
Never Miss A Monent
Simply tap Imilab Home APP to immerse yourself in high-resolution,Real time video from your cameras.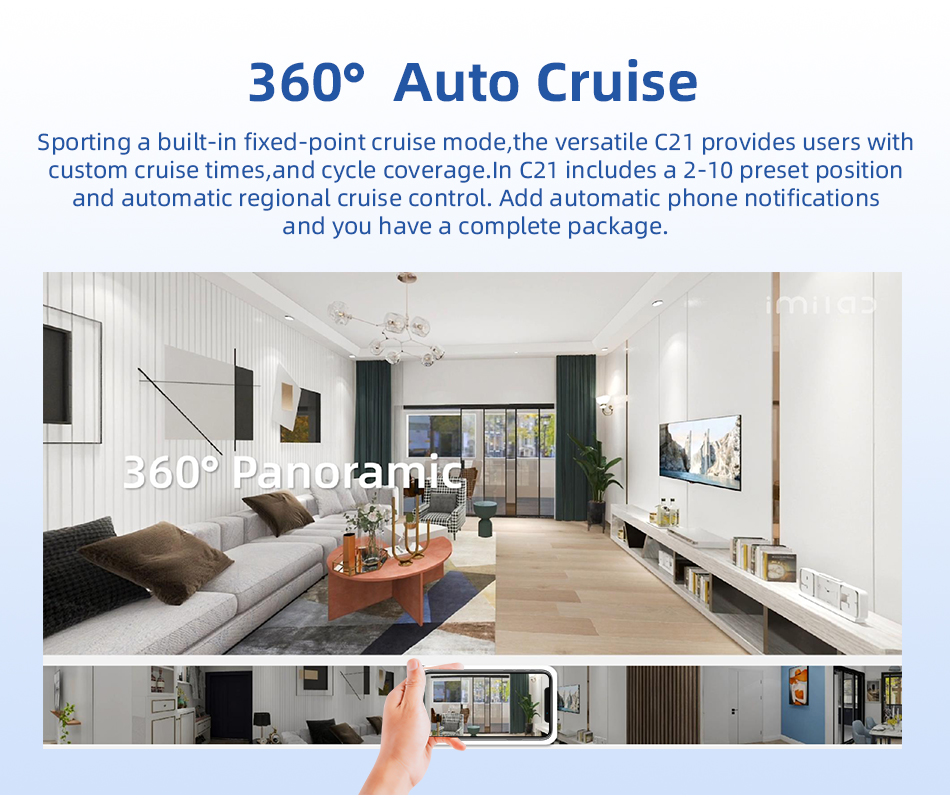 360 Auto Cruise
Sporting a built-in fixed point cruise mode,the versatile C21 provides users with custom cruise times,and cycle coverage.In C21 includes a 2-10 preset position and automatic regional cruise control.Add automatic hpone notifications and you have a complete package.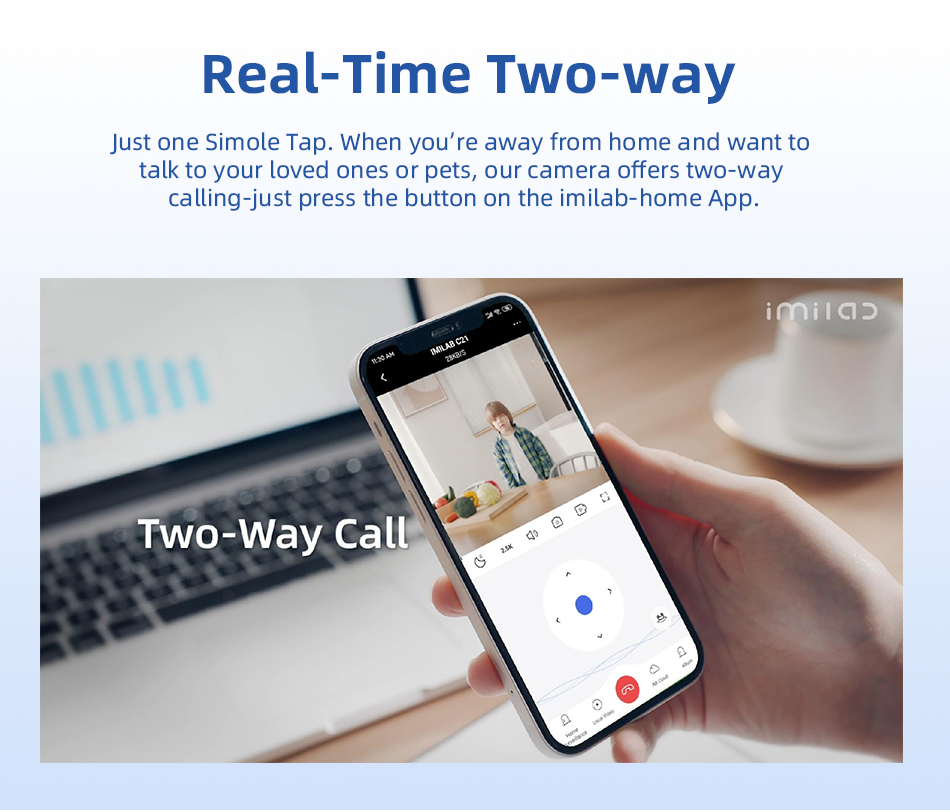 Real-Time-Two-Way
Just one simole tap.When you're away from home and want to talk to your loved ones or pets,our camera offers tow-way calling-just press the button on the imilab home APP.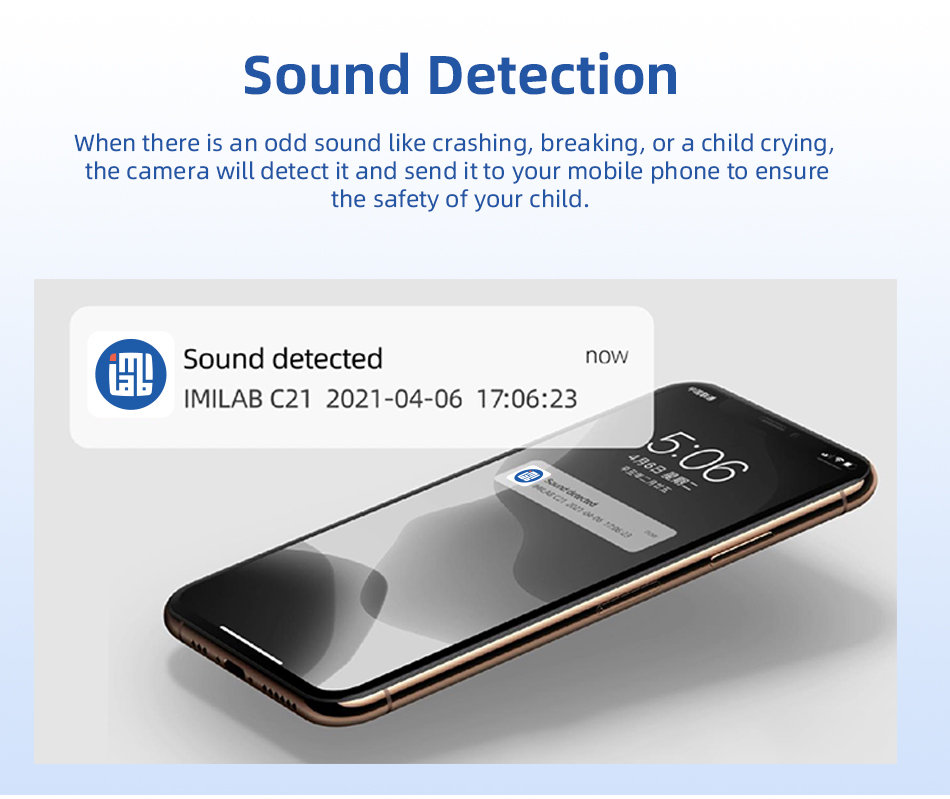 Sound Detection
When there is an odd sound like crashing,breaking,or a child crying,the camera will detect it and send it to your mobile phone to ensure the safety of your child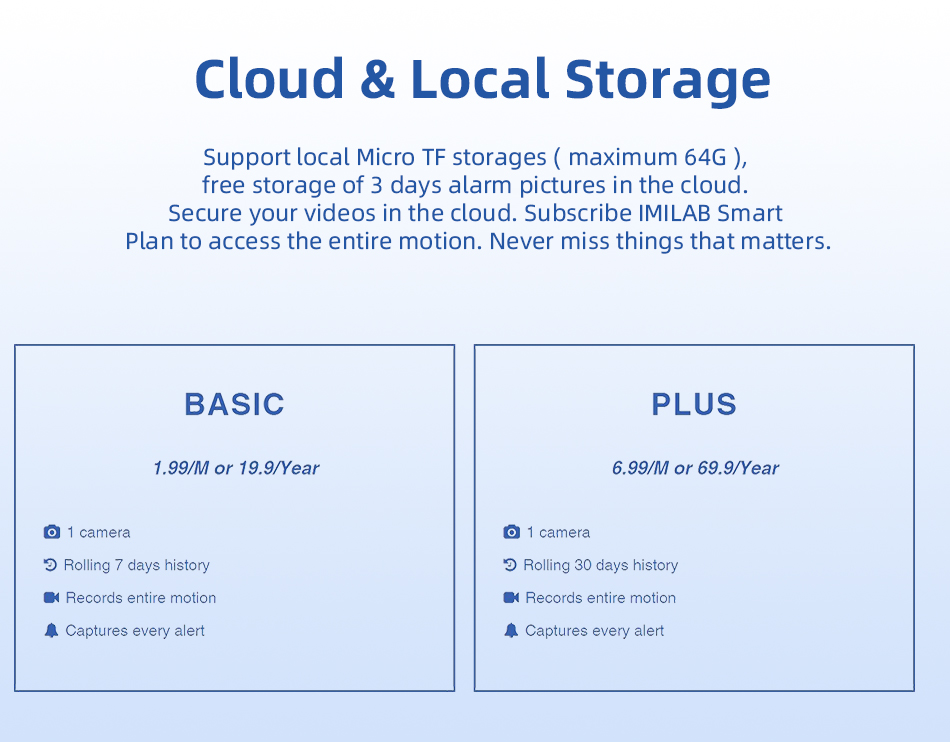 Cloud & Local Storage
Support local Micro TF storages ( maximum 64G) ,
free storage of 3 days alarm pictures in the cloud.
Secure your videos in the cloud. Subscribe IMILAB Smart
Plan to access the entire motion. Never miss things that matters.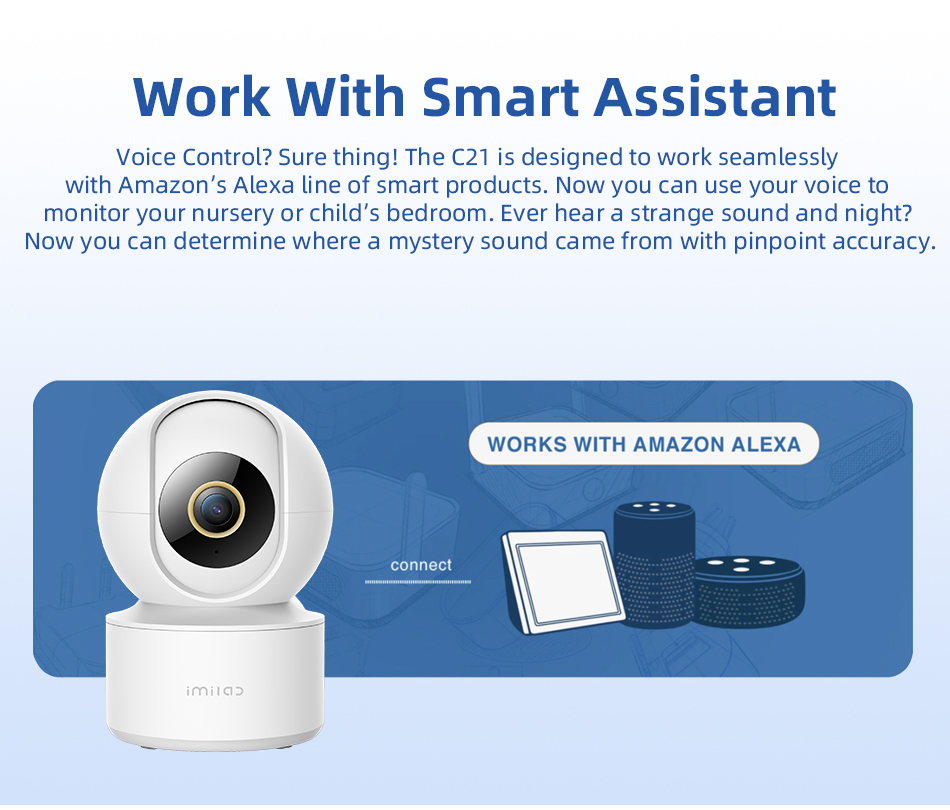 Work With Smart Assistant
Voice Control? Sure thing! The C21 is designed to work seamlessly
with Amazon's Alexa line of smart products. Now you can use your voice to
monitor your nursery or child's bedroom. Ever hear a strange sound and night?
Now you can determine where a mystery sound came from with pinpoint accuracy.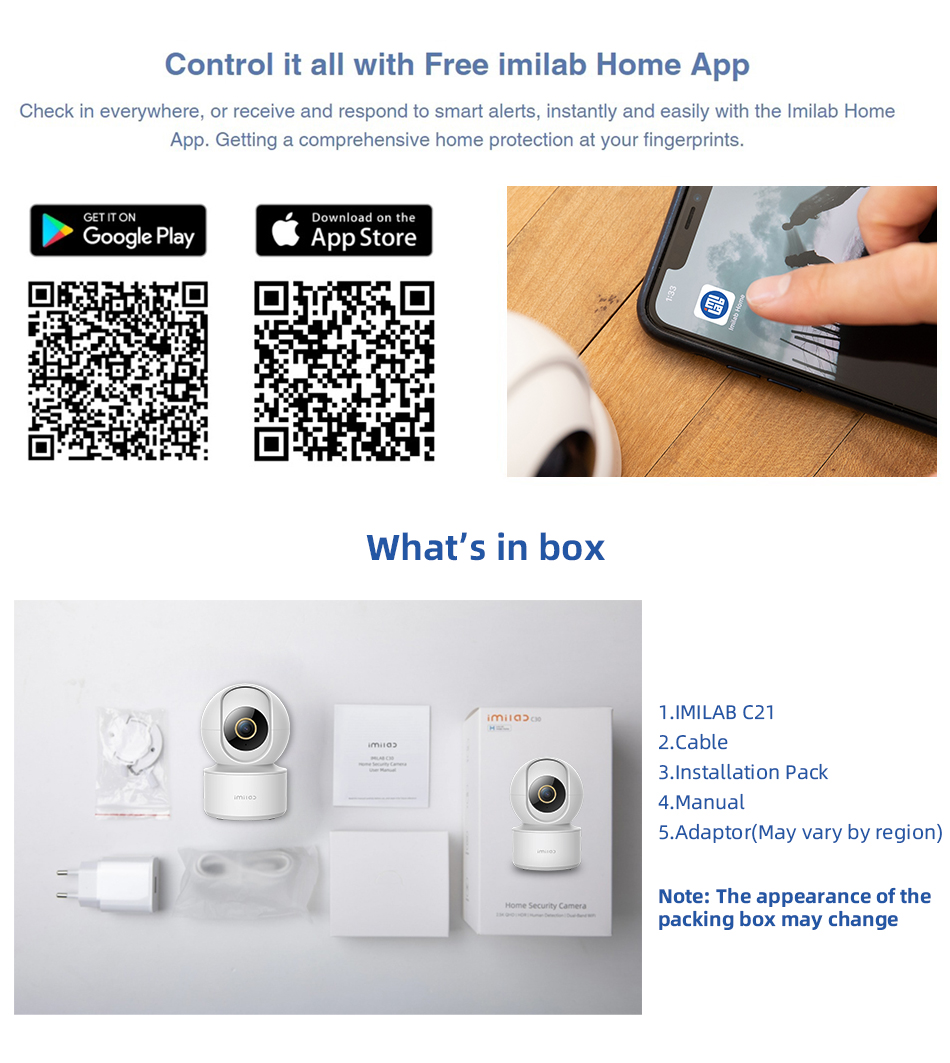 Control it all with Free Imilab Home APP
Check in everywhere, or receive and respond to smart alerts, instantly and easily with the Imilab Home
App. Getting a comprehensive home protection at your fingerprints.
What's in box?
1,IMILAB C21 2.5k Camera*1
2,Cable*1
3,Installation Pack*1
4,Manual*1
5,Adaport*1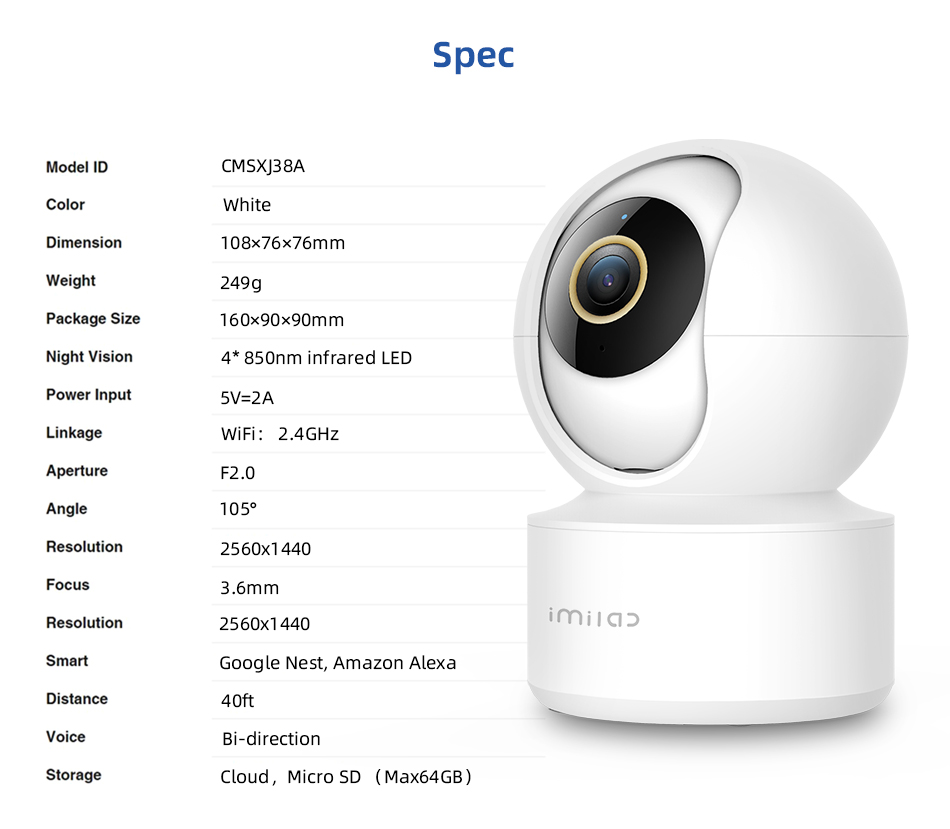 Payment & Security
Your payment information is processed securely. We do not store credit card details nor have access to your credit card information.