Description
Specification:
Brand XIAOMI MIJIA Max torque 5N.m Rated power 3.6V Non-load speed 200r/min Charging time 120-180min Screw bit mode C6.3X25mm Screwdriver Size 124X130.5X42mm Weight 350(approx.) Extension rod 60mm Screw bits PH1 / PH2 / PH3 H3 / H4 / H5 SL4 / SL6 T15 / T20 / T25 PZ2
Feature:
Strong magnetic motor, all-metal gearbox 5N.m torque, your best assistant for daily household maintenance. Cordless&Portable, 2000mAh Large capacity battery; Full charged, Mijia power screwdriver can deal with 180Pcs screws. Type-C charging mode; Split-type battery case, made of flame retardant material, safe, and heat insulation. Integral body design without screw, the coexistence of science and aesthetics, engineering plastic material, with innovative design. Double-layer UV baking varnish painting technique, dirtproof, and corrosion preventive. 3 Pcs LED light to illuminate your work, more convenient to do the repairing job. Creative rotary button design-3 gear for screw out, lock, and screw in.
Screw Bits
Material: S2 Steel Qauntity:12 Pcs Hardness:60HRC TORX T25, TORX, T250, TORX T15 PZ2, SL6, SL4 H3, H4, H5 PJ3, PH2, PH1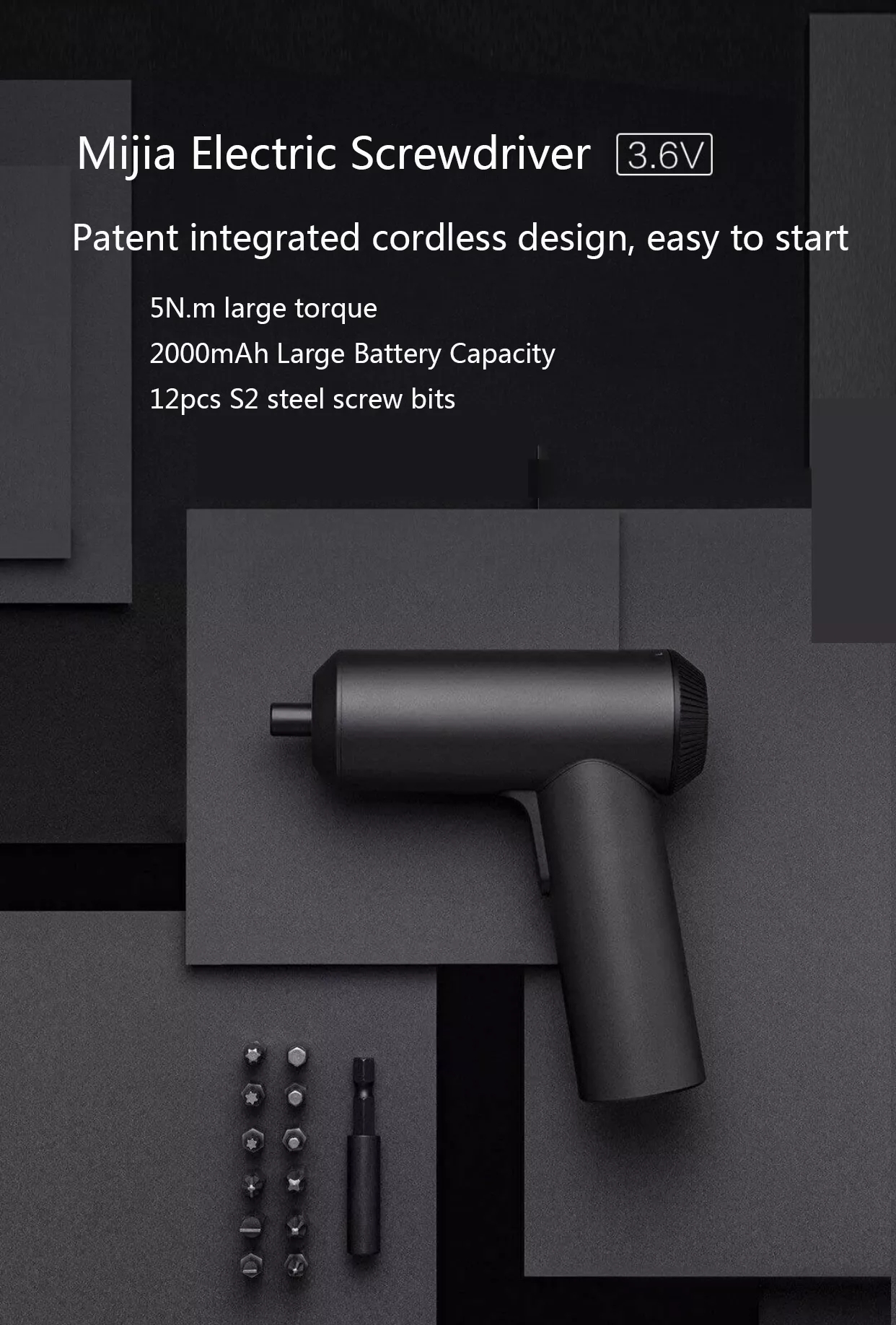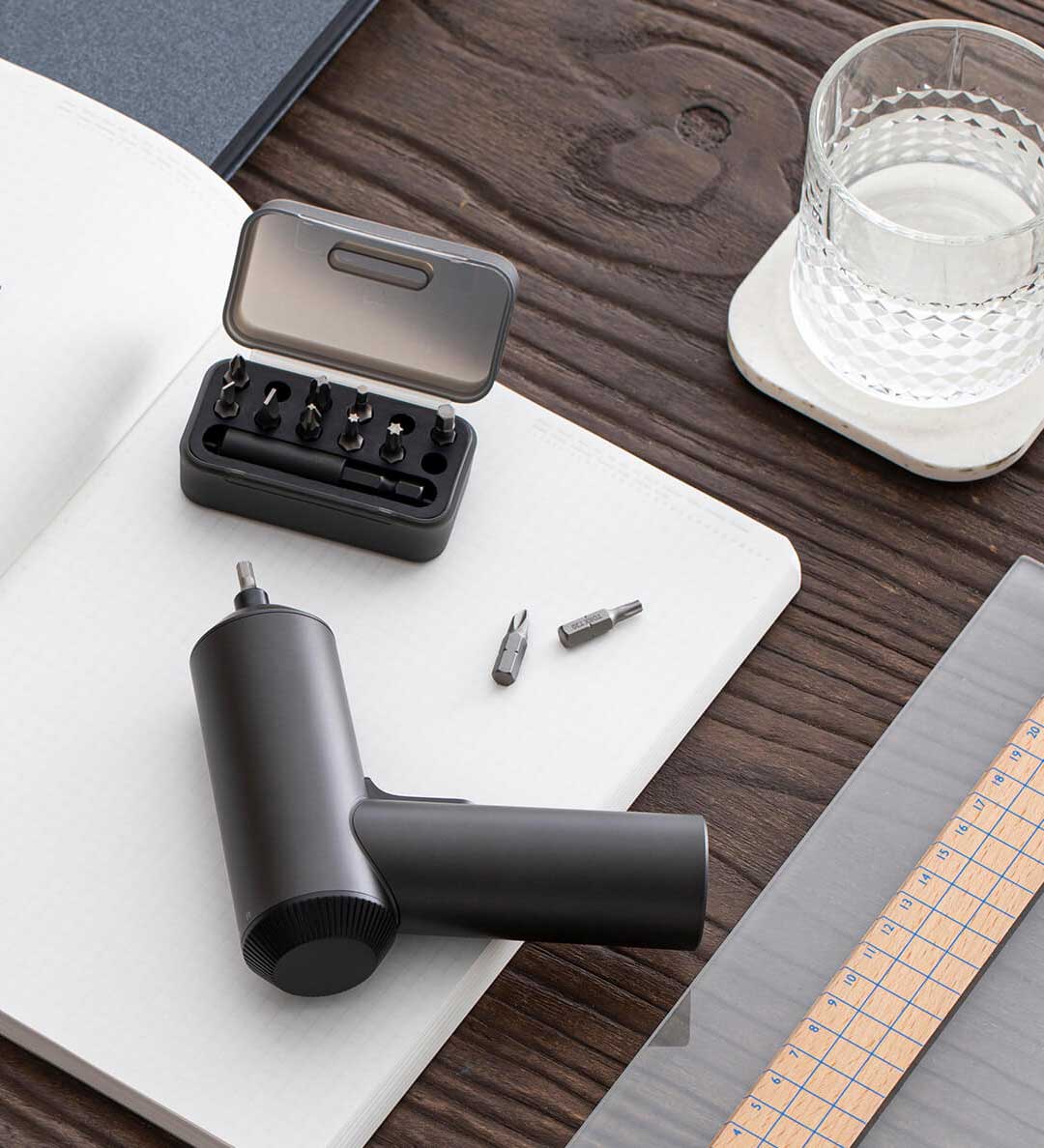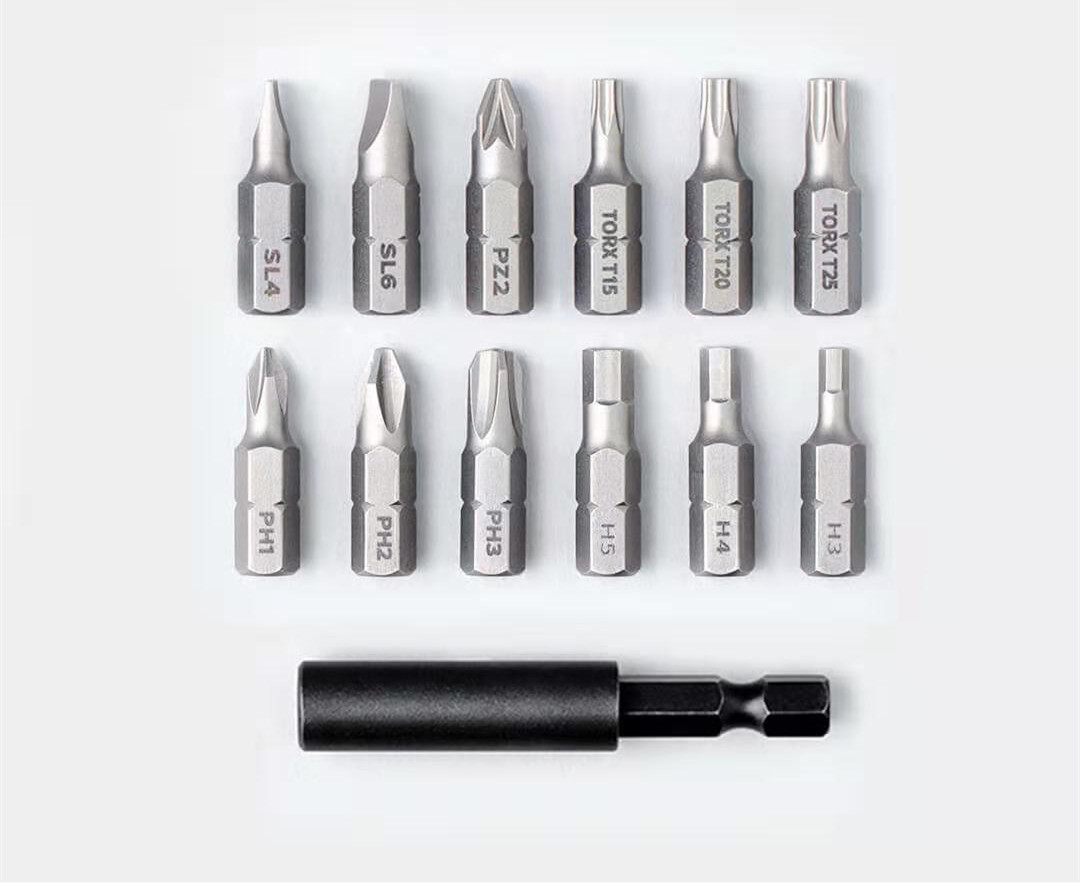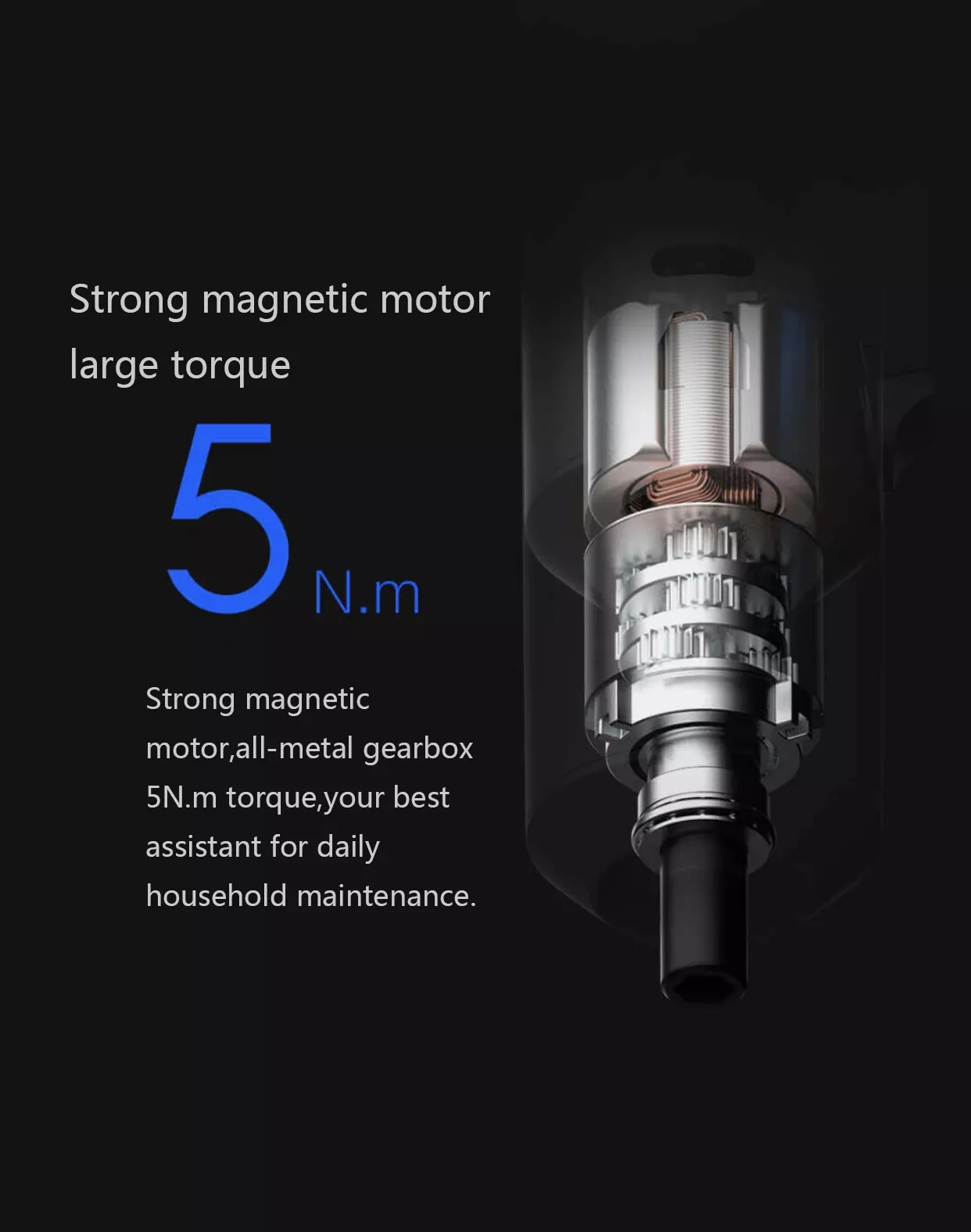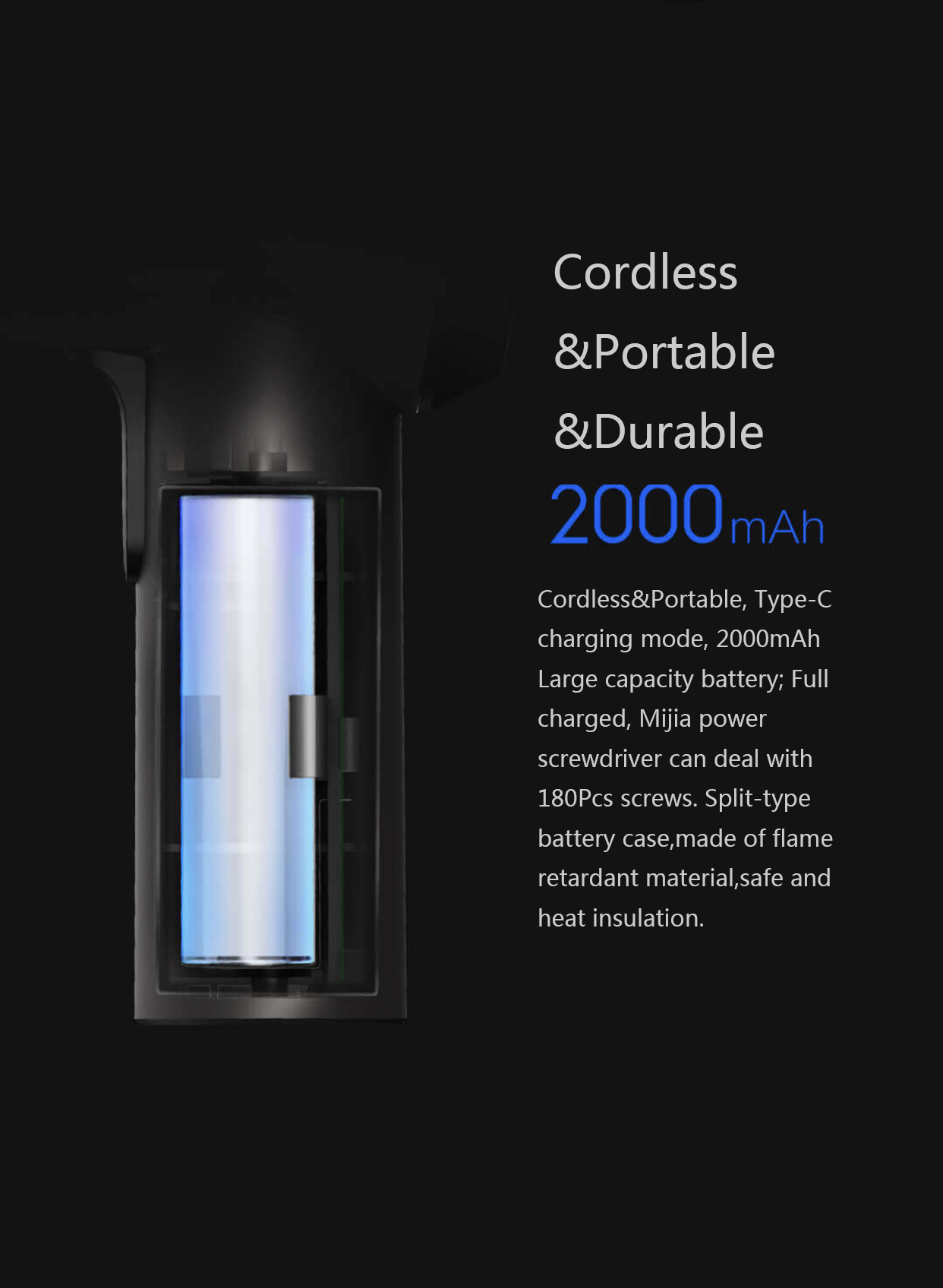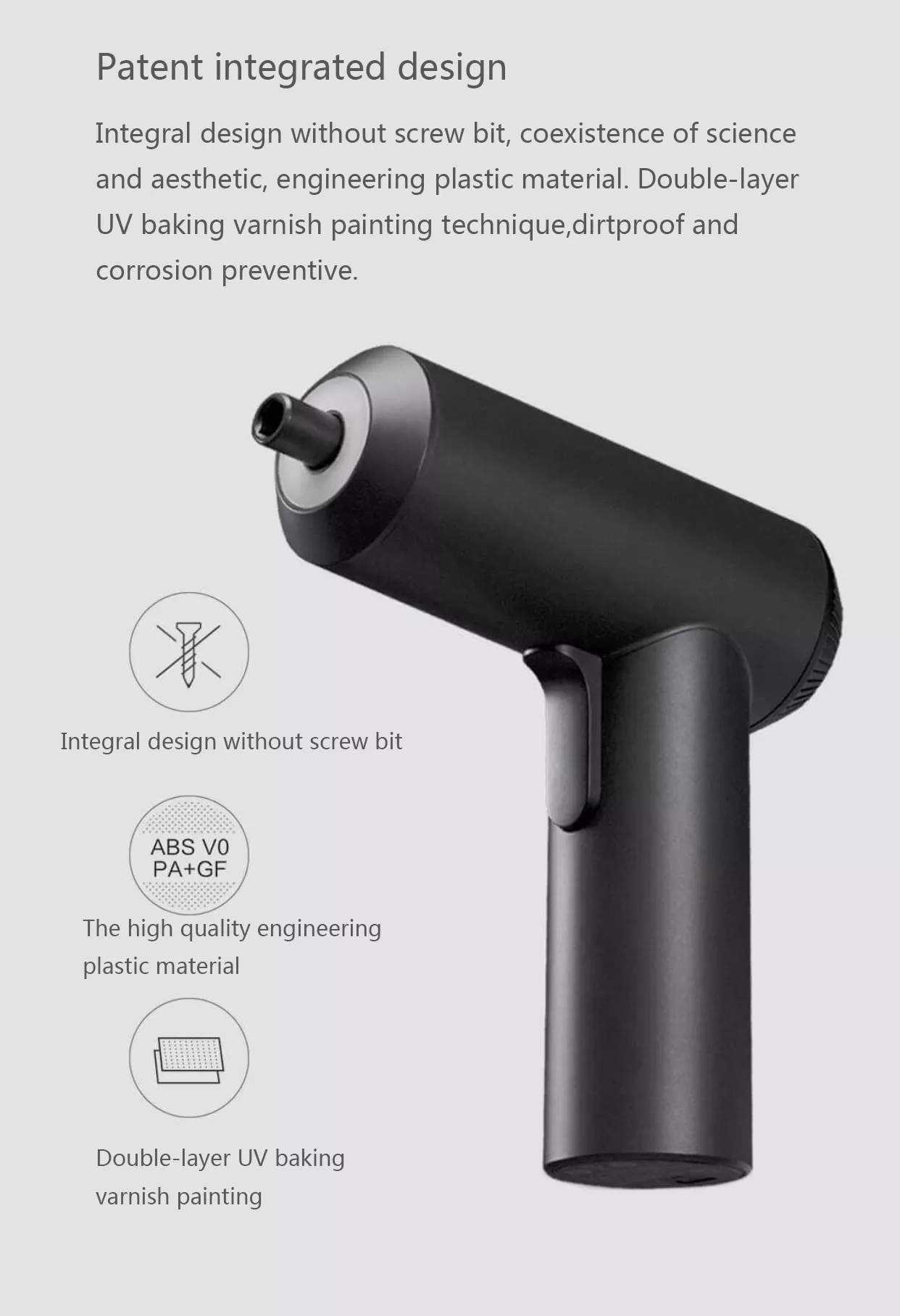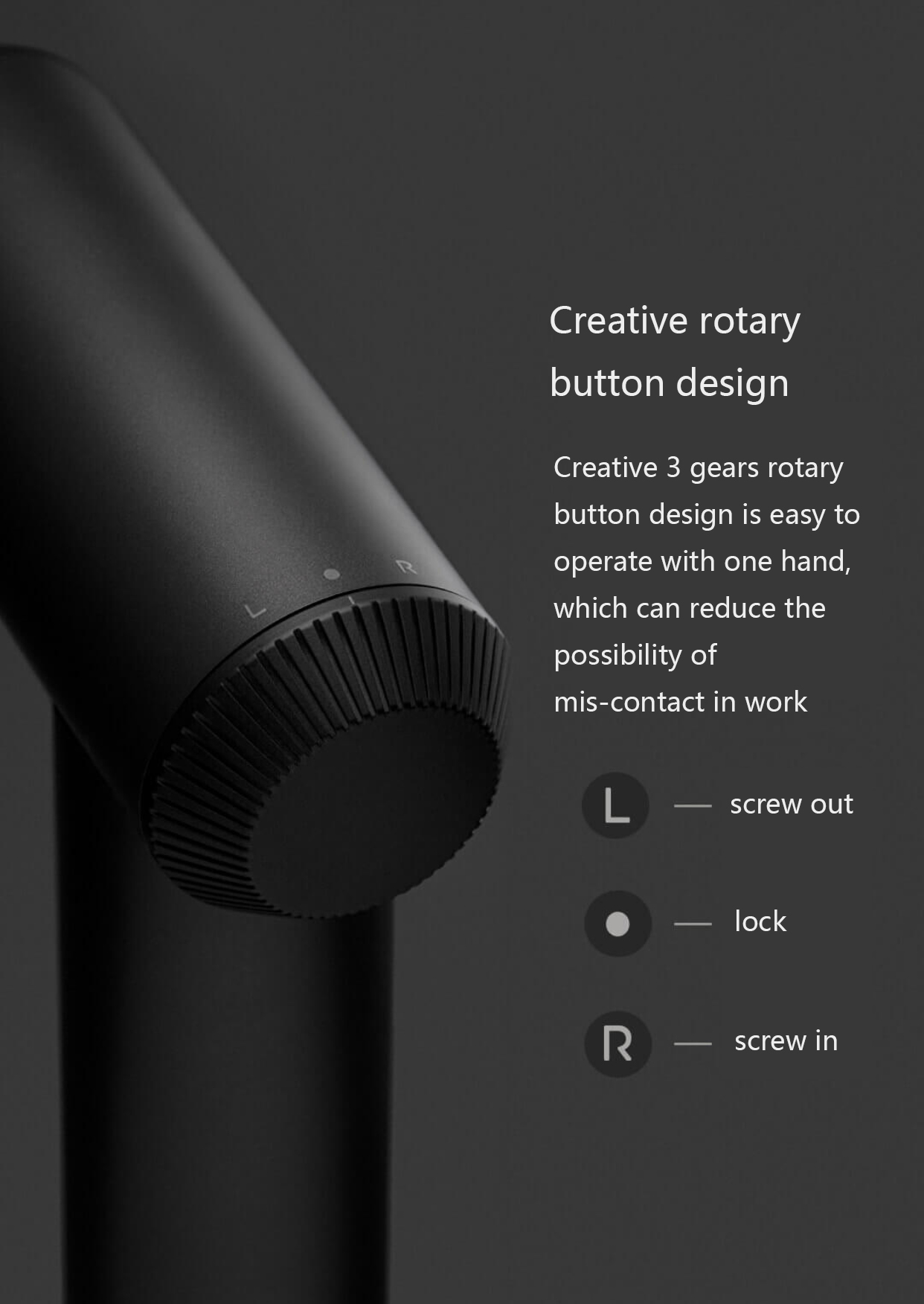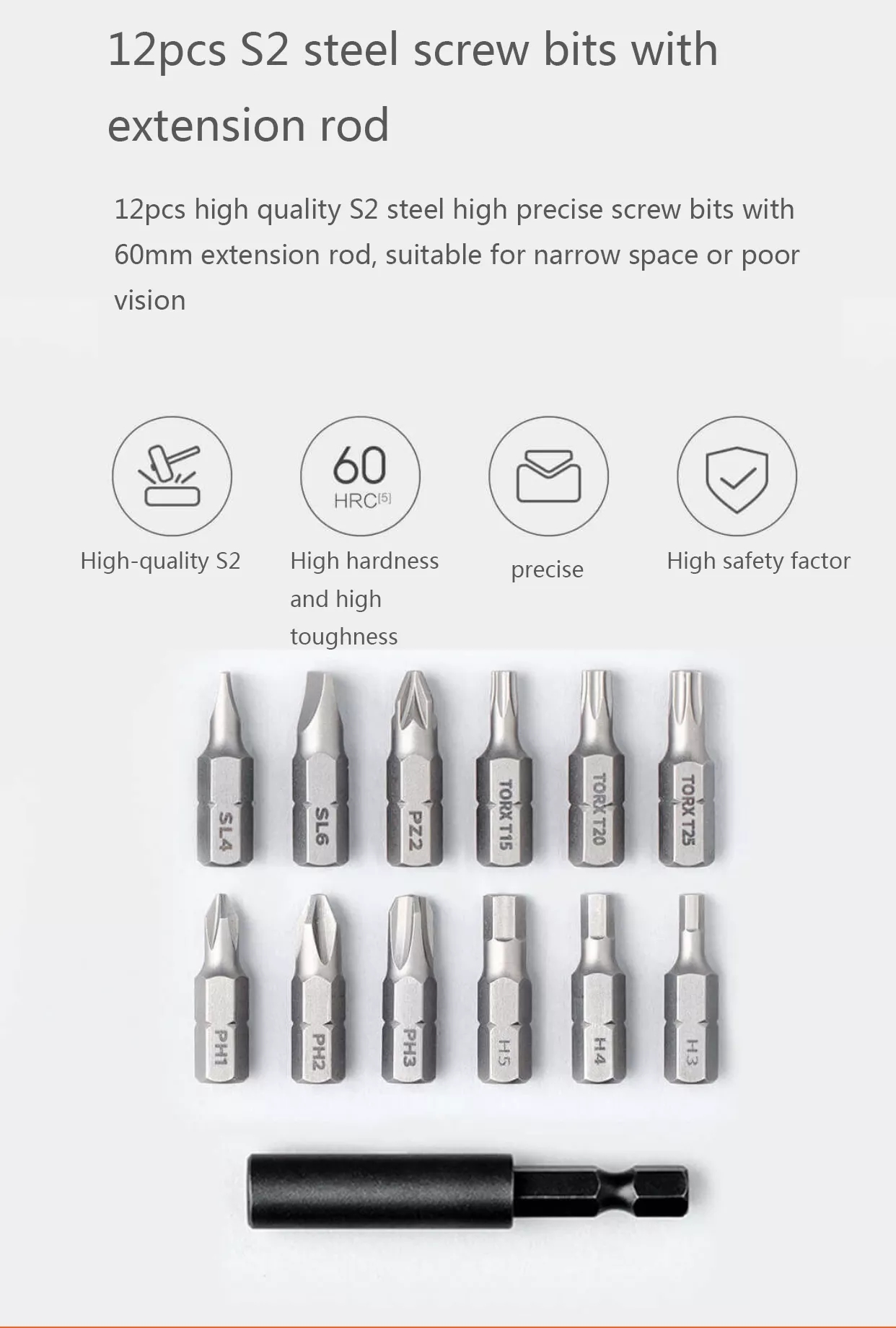 Frequently asked question
QA1. What kind of appliance is the Mijia Electric Screwdriver suitable for? Answer 1: It is suitable for all kinds of lights lamps, furniture, dismantling, and assembling of electrical appliances. Household applicant such as TV, air conditioning, microwave oven Furniture like table/desk and chair, wardrobe and bookshelf Bicycle and other type light-duty vehicles QA2. Do I have to use matching screw bits for the Mijia electric screwdriver? Answer 2: Mijia 3.6V electric screwdriver use C6.3 type screw bits. The same type of screw bits on the market can be worked with a 3.6V electric screwdriver. QA3. How to charge this 3.6V screwdriver? Answer 3: Using type-c charging cable, connected to 5V charger Charging light: Red light Full charged: White light(about 150 minutes charging time) QA4. Do I need more detail about the storage bag? Answer 4: Bag size:157x157x57mm. EVA material heat press processing, with 1680D cloth surface cover and cotton twill internal side QA5.Can I charge the screwdriver while using it? Answer 5: To protect the motor and battery well, the motor can not work while charging the screwdriver Pressing the switch of a screwdriver, in the state of R Gear Or L gear, if the screwdriver can not work which means it needs to be charged.
Payment & Security
Your payment information is processed securely. We do not store credit card details nor have access to your credit card information.